I stumbled upon these at Wal-mart in the pastry and fruit snack aisle (yes there's a whole aisle devoted to these treats at my local wal-mart) while picking up my weekly pop-tart fix, and threw them in the cart on a whim. 24 pouches for a mere $4.00 seemed like a decent enough deal, and I am a sucker for fruit snacks, so It was an easy sell. The fact they are 66% real fruit only added to their appeal and I was excited to test these out.
The "nuggets" themselves are about the size of your pinky nail and around 30 of them came in the pack. Upon popping a few into mouth I was greeted with bit of tartness which is quickly followed by a natural sweetness. Im really digging these things and try my best not to inhale the entire pack in one handful. The texture of these is unique, but I actually liked it a lot. They have a sort of waxy outer shell and the interior is reminiscent of a jellybean. The nutritional info is also very solid aspect of these treats, with just a handful of ingredients and real fruit being first on the list. At only 50 calories per pack they won't break anyones diet and could definitely curb a craving for sweets.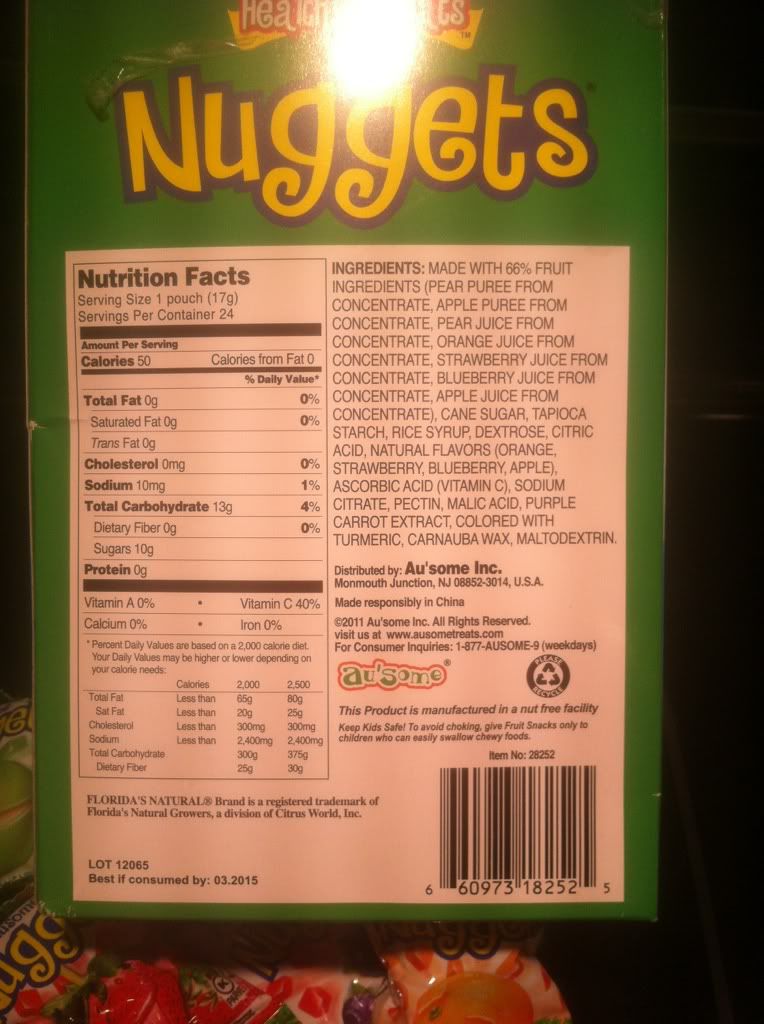 I was a fan of all of the flavors that came in this pack but strawberry was definitely my favorite. the other three (Apple, Blueberry and Orange) are all equally tasty and tied for second in my book. If you run into these I definitely recommend picking them up. They are a great lower calorie/more natural option than traditional fruit snacks, and could make a great addition to a bagged lunch. The side of the box also promotes a "sour" variety of these, which I'm interested in trying if I can find them.
Rating: 8/10
Macros:
serving: 1 pouch
cals: 50
fat: 0g
carbs: 13g (10g sugar)
Protein: 0g