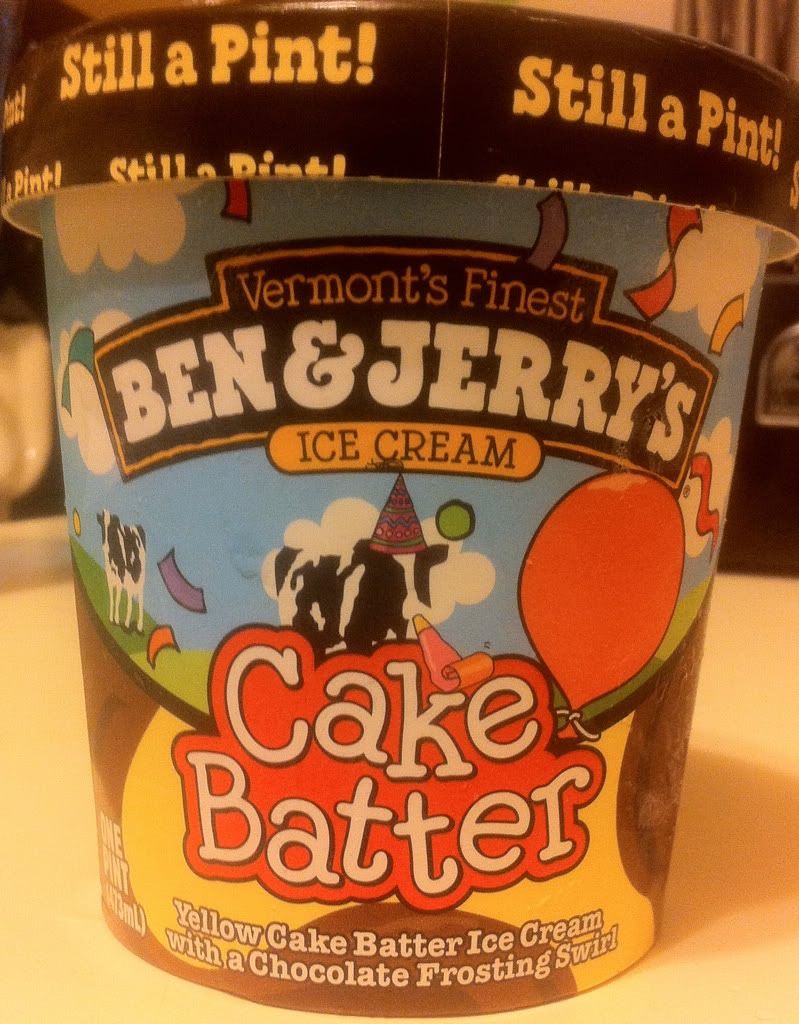 I was approaching the one month mark off the sauce. I thought I had finally beaten my Ben & Jerry's addiction....but I relapsed today. The 85 degree sunny day coupled with a sale on BnJs made the urge impossible to resist. As noted many times by now, I'm a fiend for anything cake flavored. I had tried this offering once before, but it had been too long to recall my thoughts on it, so I scooped it up. Described as "yellow cake batter ice cream with a chocolate frosting swirl." Simple enough. Knowing this brands' quality, I had high expectations.
After digging in you can see a a distinct frosting pocket tucked within the cake flavored ice cream. The cake base itself is quite authentic. You really get that batter taste of uncooked flour/sugar (eggs?), not the overly artificial "birthday flavor" some ice creams use. The chocolate frosting ribbon is generously distributed through the pint, and is just that, real frosting. Not some frosting flavored ice cream like other brands. Nice touch. It retained its distinct texture within the super dense ice cream which is a feat in itself. It tastes almost identical to the canned frosting you can buy in the supermarket (and subsequently sneak a spoonful of) and seems as if half of a container was injected into the ice cream. The combo makes for a really authentic cake batter flavor, but the lack of real mix ins really left me wanting. Cake pieces and sprinkles would have complimented this flavor beautifully, but without them this flavor left me bored.
Like all Ben & Jerry's offerings, the nutrition facts are quite unfriendly. High fat and sugar, and a whopping 260 calories for the minuscule 1/2 cup serving. This is a rare indulgence for me, but tonight I threw caution to the wind and killed the entire pint (the best way to eat BnJs in my opinion). Overall this satisfied my sweet tooth and curbed my ice cream craving for the time being, but it certainly isn't their best offering by a long shot. If there were more substantial mix ins, I think this could be one of my favorite flavors, but since it is devoid of them, I have to give this a mediocre grade. If you are a cake batter junkie, or on the quest to try all their flavors go ahead and pick this up. If not, its probably not worth your time.
Rating: 6.8/10