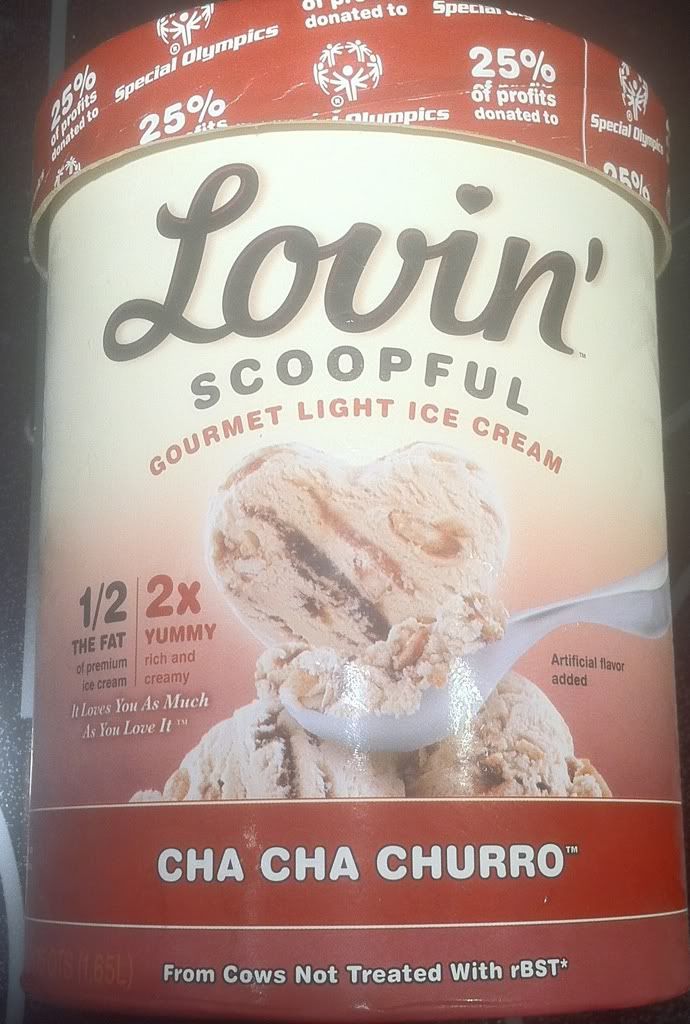 I bought this partially on a whim and also because it was on sale. I had high hopes for this flavor and thought it might somehow be a lower calorie replacement to Ben and Jerrys cinnamon buns ice cream.

Their descriptions are quite similar. In fact, they are almost identical. Cinnamon ice cream, a pastry mix in, and a cinnamon sugar swirl. So far so good. It seems like I may have just struck gold. That is, until I dug in.
The first thing that you notice with this "ice cream" is that it doesn't seem to really freeze. Initially I thought it was soft because I had just come home from the store, but days later it hadn't hardened one bit. Frozen cool whip honestly becomes harder and more frozen than this. I went ahead and scooped a few servings anyway and figured it still might hold an amazing flavor. WRONG. All I really taste is sweet, with a hit of cinnamon. I detected little to no caramel flavor in the base. The churro pieces were plentiful but were bland and just offered a change of texture and little else. The brown sugar swirl was also quite prominent, but it just added to the already overwhelming sweetness. On top of all that, this ice cream is extremely "gummy". I had seen other reviewers use this term before and never really knew what they meant, but now I know and its not pretty. This stuff is clearly loaded with various gums that attempt to thicken this ice cream impostor and it is not pleasant. Its stretchy and reminds me of silly putty or something. I just seems fake.
The nutrition facts are pretty standard for a light ice cream and quite diet friendly. The serving size was quite small though, especially compared to other light ice creams which at least appear to have a lot of volume. This stuff, however, was surprisingly heavy and 2 servings yielded quite a small dish of ice cream. Not the least bit satisfying. Now I'm sitting here writing this mediocre review craving some real ice cream. I would not recommend this flavor at all and don't think I will try any of this brands other flavors. Their descriptions all seem great, but after this lackluster experience I think they are all talk and no substance. In the end, this wasn't repulsive, but all I could taste was bland sweetness. It was a total waste of calories and I'm even debating chucking the rest of the container (an act i've never done before). This is a total bastardization of BnJs Cinnamon Buns and I'm embarrassed to have thought it could even come close.
Rating: 4/10